George Dafoulas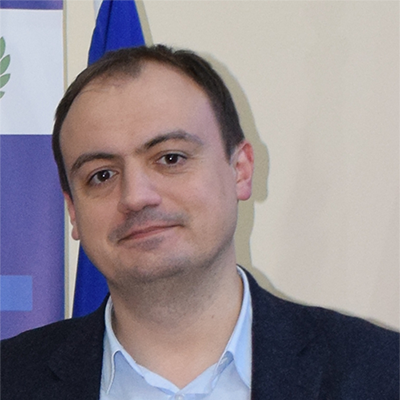 Short CV
Dr George E. Dafoulas is in Internist and holds a Master in Business Administration in Health Services Management from the Nottingham Business School-Nottingham Trent University, UK. He is a PhD candidate at the Faculty of Medicine of the University of Thessaly on the topic of Health Technology Assessement of e-health service and was a visiting scholar in CSAIL-MIT, Cambridge-Boston, USA working on the topics of open source/open science for Global Health. He has worked as a research fellow of Ethnikon and Kapodistriakon University (NKUA), School of Medical Science, in Athens, Greece and of University of Birmingham, UK in projects related with Diabetes, as well as e-health and e-care services and real-world data analytics.
About PRESENTATION
Challenges and opportunities of the "3Os" policy regarding the analysis of real-world health data in Greece.
Acknowledging the role research and innovation have in preserving the health of citizens and socio-economic sustainability, the role of Open Science/Open Access in the Health sector is considered promising. To introduce effective new scientific contributors to the culture of EU "3Os" strategy (Open Innovation, Open Science and Open to the World) in the health care, the concept of "datathon" or "hackathon" model has been proposed.
A major leap forward factor for the real world data analytics in the health sector in Greece was the introduction of the electronic prescription platform of the National Organization for Health Care Services Provision (EOPYY) in 2010, that since 2014 includes 95% of the prescriptions dispensed to the entire Greek population.
A new regulatory framework was introduced in February 2016 based on the Law 4368/2016 for the use of real world data of EOPYY for research purposes. In accordance to the legislation introduced, the Universities can sign framework agreements with EOPYY and a special multidisciplinary committee was established within EOPYY to deal with the review of the research protocols submitted from the Universities' research teams. The process is also reviewed by the Data Protection Authority of Greece.The national e-prescription system of Greece is already a valuable source of planning, control and transparency data for the Greek healthcare system. The support of open access and open science policies regarding the use of its databases could foster its further use for research and innovation.
WHEN
DAY 2 - 11:30 PARALLEL SESSION 3
DATATHONS IN EVIDENCE-BASED MEDICINE: APPLYING OPEN SCIENCE PRINCIPLES TO SUPPORT CROSS-DISCIPLINARY EDUCATION AND RESEARCH
See full programme here.