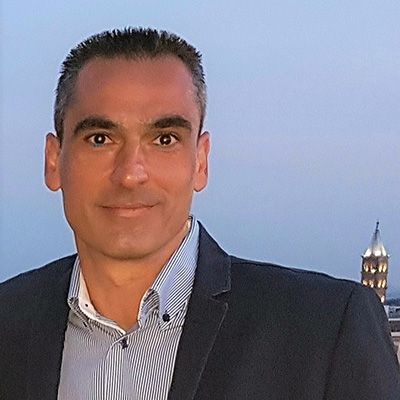 SHORT CV
Thomas Bartzanas, is Director of Research and Head of the Agrotechnology sector in Center for Research and Technology (CERTH) / Institute of Bio-Economy and Agri-Technologies (iBO) Research Institute. He is an agricultural engineering with a PhD on environmental control of agricultural structure. His research area is focused on the application of precision agricultural technologies (sensors, automation and ICT tools) for sustainable agriculture, systems analysis and modelling in agriculture, controlled environment agriculture (greenhouses, livestock storage systems) and environmental assessment of agricultural operations. He has participated as a Researcher or/and project manager, or/and coordinator in 40 research projects. He has 300 publications in peer reviewed Journals, book chapters, conference proceedings. He has co-edited a Book for Springer, his h-index is 18 and he has 1100 citations. Thomas has been invited to give 6 key-note speeches around on Structured Agricultural Production Systems. He is the Chair of Computational Fluid Dynamics (CFD) working group under the auspices of International Society of Horticulture Sciences (ISHS, he is the Greek representative member in Animal Task Force (EU), and member of the management committee of 2 COST actions related to livestock sector and vice chair in one of them. In Greece he is the national representative and coordinator of the Greek Innovation Platform for Agrofood (GSRT) and vice –chair of the Greek Food for Life platform (SEVT).
WORKSHOP PRESENTATION
TITLE
The importance of open data in the agri-food sector
ABSTRACT
Half of the European Union's land is farmed. This fact alone highlights the importance of farming for the EU's economy, employment, energy use and environment. The globalization of markets has increased the competitiveness whereas the consumers' needs for healthy, safe and locally produced products highlighting the need for high quality production. According to Food Agriculture Organization (FAO) in the next 20 years world food production must increase by 50%, while 80% of that increase must come from intensification. However this vital and crucial sector for the European agriculture economy is a sector under pressure due to several challenges (world population, water shortage, climate change, use of pesticides and fertilizers, energy use, food safety). Agricultural production systems, and the policies and institutions that underpin global food security, are increasingly inadequate. Modern IT and data analysis tools are powerful and can really help meet the challenge of feeding a growing population in more resource-efficient and sustainable ways. Smart farming presents a viable solution to such problems. However, as smart machines, automation systems, robots and sensors crop up on farms and farm data grow in quantity and scope, farming processes will become increasingly data driven and data-enabled. Currently there are a lot of stakeholders involved in the data collection and management in agriculture (companies, organizations, public authorities, farmers). However the accessible on all these data is still questionable. In this context open data has become and should more widely used within the agricultural data environment. The context under which open data should be used and analyzed in agro-food sector is presented together with some so far success stories.
WHEN
DAY 1 - 12:30 PARALLEL SESSION 1
The Roadmap to better food: Using ICT and Open Data to overcome barriers in the agriculture value chain
See full programme here.